"We've had three big ideas at Amazon that we've stuck with for 18 years, and they're the reason we're successful: Put the customer first. Invent. And be patient."– Jeff Bezos
Jeff Bezos believes in an influential core company culture for business success and undoubtedly his vision has yielded desired results for him. The numbers are in his favor. In 2019, Amazon became the most valuable company in terms of B2B marketing and reached over US$1 Trillion. The world is astounded by his success and wants to know his guiding principles which paved way for his success.
Clearly, the amazon leadership principles are most sought after today by people living all across the world. These amazon 14 leadership principles are game-changers as they cover everything from interview questions to team dynamics and the culture of the business.
Amazon.com is very proud of the leadership principles that have governed their nova burst into corporate stardom. Who would have imagined that a startup started 23 years back solely focused on selling books online – and is now the 5th largest company in the United States?
Led by Jeff Bezos, amazon leadership principles are a guideline on how to make a business work. This article will especially help those who want to land a job amazon – however, they are universally applicable to any business or leader.  By aligning with these principles, you may acquire the qualities required to get the ideal job in any company.
These fundamental 14 principles are the basic values that govern the company and its employees. Amazon tests its employees and candidates on the principles relevant to the role. Read on to know everything about the amazon leadership principles inspired by some of the most valuable leadership styles.
Everything about the Amazon 14 Leadership Principles
The main thing that makes amazon unique is the leadership principles that lead to problem-solving, productivity and quality decision making. Below is the detail about all the leadership principles inspired by Jeff Bezos for a successful business approach:
1. Customer Obsession
We all have heard a quote that says "customers are always right." An entrepreneur aspires to tick all the boxes to achieve and maintain the customer's trust in order to not slip away the client to competitors. The customer obsession based business focuses more on the customers' retention by enforcing brand loyalty to them in order to gain their trust. It is highly important, especially when you are in a marketing business, where the customer lifestyle really matters.
Customer obsession stands on the principle of understanding clients and taking regular feedback from them on products. To make matters more clear, there are a few questions which an entrepreneur must ask themselves to understand the phenomena of customer obsession under Amazon's leadership principles.
Here are the questions:
How will you prioritize customer's needs when you are working with a large number of customers and also when it's tricky to deliver excellent service to all of them?
Give an example of an event when you did not meet a client's demand, what happened then, and how did you deal with it.
Who was your most challenging customer?
Tell me about the last time you had to apologize to someone.
Can you remember a time when you obsessed over giving very high-quality service to a customer?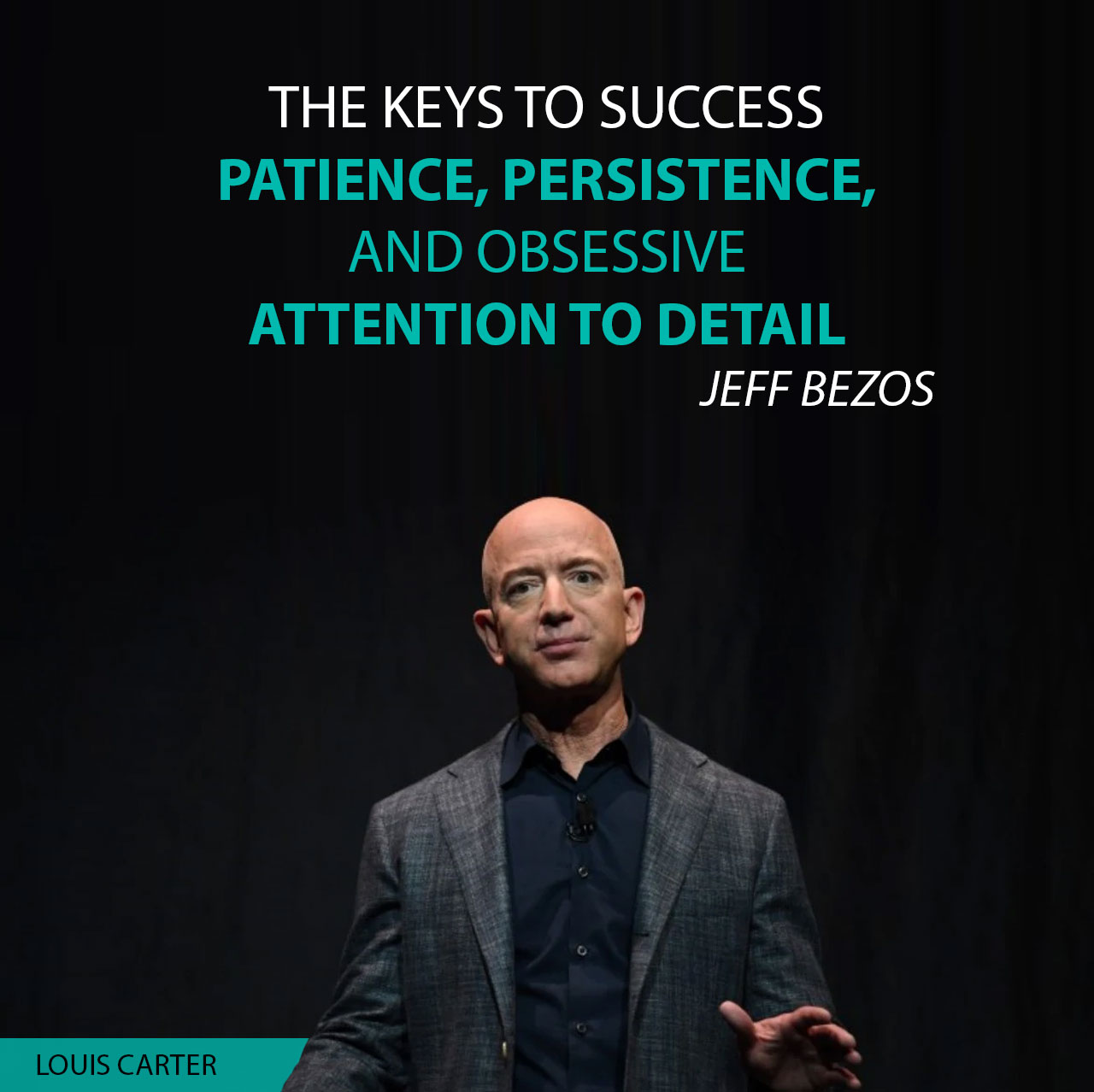 2. Ownership
The people who say "that's not my job" are never the owners. Leaders are owners. They always think on a long-term basis and never rely on short term results. They not only act on behalf of their own team but for the entire company. Ownership strengthens the employee-employer relationship.
Because of the ownership, employees respect the phenomena of accountability and show commitment to their organization.. It brings the desired positive outcomes for the development of the company. Some of the interview questions that will determine the basic requirements of ownership are – tell me about a time when you:
Had to make a questionable short term decision to build long term gains?
Had to work on a project with unclear responsibilities?
Had to leave a task incomplete?
Took on a task that went beyond your typical responsibilities?
Took it upon yourself to work on a thought-provoking initiative.
3. Invent and simplify
Leaders expect innovation from their teams and always seek ways to streamline them. They look for new ideas from far and wide perspective. But having said that it's also true that in the quest to implement new ideas, there is always a threat that it wouldn't connect with the target audience.
The only way to get over that roadblock is by introducing user-friendly innovations. It's true that modern innovative products are 'The' factor to stand out from the rest but one must always be cautious to always take into account that is handy for the users.  These questions allow leaders to look at innovation from the required perspective. Tell me about a time when you:
Failed to simplify a process and what you would have done otherwise.
Developed something, and it went wrong.
Changed a process at work through either an innovative new way or simplification.·      Invented something.
Gave a simple solution to a complex problem.
4. Are right, a lot
Good leaders are often right in a number of areas. They have definite decision making power and good instincts with proper markups for a business. They seek diverse viewpoints in light of giving innovative products to the target audience. They have the curiosity to learn more at every stage of the business. In the amazon leadership principles, Jeff Bezos noted that leaders are right not because the employee always has to follow the leader, but because a leader has the potential to look for perspectives that an employee cannot. The following questions will also shed light on this aspect. Tell me about a time when you:
Had to work with incomplete data or information.
Were wrong.
Had to use your judgment to solve a problem.
Incorporated a diverse set of perspectives into solving a problem.
Had your beliefs challenged.  How did you respond?
5. Learn to be curious
This is perhaps the most important Amazon leadership principle as it sets the foundation of the entire business structure. Leaders are never satisfied with their product, the word, 'perfect' is not in their dictionary. It's curiosity which helps them to achieve new feats. They are never done learning and always look to improve themselves. They are curious to know all the possibilities and acts to explore them. They are never satisfied at any point in their business development which makes them interesting. Some example questions from amazon leadership principles in this regard are: Tell me about a time when you:
Solved a problem through just greater knowledge or observation?
Influenced a change by only asking questions?
Went through that changed your way of thinking?
Curiosity helped you make a smarter decision?
and :
Tell me about the most significant and imperative lesson you learned in the past year from your experience?
6. Hire and develop the best
With every hiring and promotion, a good leader raises the performance bar and productivity. Leaders have a keen eye to recognize the exceptional talent in an employee or to put in other words they always seek the answer to the question in relation to every employee and that is whether they can move the company towards success or not. Leaders are always willing to coach others. They work on behalf of their people to keep inventing for development. According to Jeff Bezos "I'd rather interview 50 people and not hire anyone than hire the wrong person." By putting this quote in consideration, his team compiled the following questions for hiring for development:
Tell us about a time when you made a wrong hire. When did you figure it out, and what did you do?
Tell us about a time when you mentored someone.
Tell us about the best hire you have ever made.
What qualities do you look for most when hiring others?
Who is the most important person in your life, and why?
7. Insisting highest standards
Amazon leadership principles have its own high standards. It makes the point that leaders have relentlessly high standards in every aspect of the business. A majority may think these standards are excessively high, but, leaders are constantly raising the bar and aim to drive their teams to deliver high-quality products, services, and processes. Leaders ensure that defects do not let down the line, and they always try to fix the problems always on time. Some example questions for insisting high standards are – tell me about a time when…
A team member didn't meet your expectations on a project.
You couldn't meet your own expectations on a project.
You raised the bar.
You motivated a team to go above and beyond.
You were dissatisfied with the quality of something at work and went out of your way to improve it.
8. Think big
Thinking small is a self-fulfilling forecast. Leaders always take a bold direction that stimulates favorable outcomes. They think in their own way and look around corners for ways to serve customers with high standards. Leaders believe that there is no task difficult for them which is why they think big and create innovation. In interviews, the recruiters ask the employees some tricky questions to know their vision. Some examples are here to find out whether the applicant has supervision or not:
Tell us about a time when you went way beyond the scope of the project and delivered?
Tell us about your proudest professional achievement?
Tell us about a time when you were disappointed because you didn't think big enough?
Tell us about a time when your vision resulted in a significant impact?
Tell us about a time when you had to make a bold and challenging decision?
9. Bias for action
Timings matter a lot in business. Many decisions and actions are adjustable and do not need extensive study. We value calculated risk-taking. Bias for action does not mean acting without consideration. Despite that, the inclination for action means having an idea or evidence, and understanding quickly what that market thinks of it. Amazon leadership principles emphasize on the bias for action prospect because sometimes some decisions are irreversible. In that case, it helps a leader to handle the situation. The questions that can be asked from an employee applying for a relevant role are:
Tell me about a time when you took a calculated risk?
Tell me about a time you wanted to get information from someone who wasn't very responsive. What did you do?
Describe a time when you noted some problems and took the initiative to correct it rather than waiting for someone else to do it?
Tell us about a time when you had to decide with little data or information?
Tell us about a time when you made a decision too quickly, and what you would have done differently?
10. Frugality
"I think frugality drives innovation, just like other constraints do. One of the only ways to get out of a tight box is to invent your way out."- Jeff Bezos
Amazon leadership principles stress on achieving more with less. Restraints breed ingenuity, independence, and creation. There are no additional points for growing headcount, financial budget size or fixed expense. It can lead to wise decision making especially regarding financial concerns. Some interview questions in regards to frugality test are:
Tell us about a time when you had to work with limited time or resources.
Tell us about a time you had to rely on yourself to finish a task.
Tell us about a time where you turned down more resources to complete an assignment.
Tell us about a time when you beat out the competition with fewer resources.
Tell us about a time when you had to be frugal.
11. Earn trust
Leaders are very attentive; they speak candid and listen to the advice of their subordinates. They are frank with their employees and don't feel embarrassed about discussing matters which they feel lack knowledge of. They set their goals against the best and motivates their team to do this as well. In this way, they earn the trust of their employees and also their customers. The applicants who apply for such a relevant position needs to be prepared for some tricky questions. Amazon leadership principles example questions for earning trust are as  follows:
Tell me about a time when you had to tell someone a harsh truth?
What would you sort out if you come across that your closest friend at work was stealing?
What is the quality you value least about yourself?
What do you do to gain the trust of your teammates?
Tell us about an event you had to speak up in a stressful environment?
12. Dive Deep
Leaders function at all levels, stay associated with the details, audit frequently, and are skeptical when metrics and narratives differ. No task is below their standards. They always have an in-depth look into all the matters of the business and want to hire such employees who also enjoy supervision. Some interview questions related to the deep dive in all issues are:
Tell us about something that you learned recently in your role?
Give us two examples of when you did more than what was obligatory in any job experience?
Tell us about the most complicated problem you've ever worked on?
Tell us about a time when understanding the details of a situation helped you arrive at a solution?
Tell us about a time you utilized in-depth data to come across a solution?
13. Disagree and Commit
Leaders are obliged to their team members whenever they receive quality advice contrary to their perspective. They don't feel their authority being undermined when team members respectfully disagree with them while putting an alternative idea. Leaders have conviction and are tenacious with their plans. They do not settle for less for the sake of social solidity. Once a decision is taken collectively, they commit wholly to it. To check the decision making power and strong commitment of an applicant for the relevant job, amazon leadership principles have some questions lined up:
Tell us about a time when you had to step up and disagree with a team member's approach.
If your direct manager was coaching you to do something you disagreed with, how would you handle it?
Tell us about a time when you did not accept the status quo.
Tell us about an unpopular decision of yours.
What do you believe that no one else does?
14. Deliver Results
"The keys to success are patience, persistence, and obsessive attention to detail."– Jeff Bezos
Leaders focus on the critical contributions and efforts for their business and deliver them with the right quality promptly. Despite holdups, they rise to the occasion and never settle for less. Amazon leadership principles result in delivering the best results and here are some of the questions that can be asked to you for a related job:
Give me an example of a time when you were 75% of the way through a project, and you had to pivot strategy–how were you able to make that into a success story?
By providing an example, tell me when you have had to handle a variety of assignments. Describe the results.
What is the most challenging situation you have ever faced in your life? How did you handle it?
Tell me about a time you had too much on your plate to deal with and how you handled getting everything done.
Tell me about a time when everyone else on your team gave up on something, but you pushed the team towards delivering a result.
Conclusion:
The Amazon 14 Leadership Principles are a way for you to find the applicants that best fit within the company culture,  help you fit into the company culture or help you land a job at Amazon!
And let's face it, the principles are a great way to reflect on your leadership skills even if you aren't preparing for applying for your dream role at Amazon. If you are preparing for an interview with any company, I recommend developing a handful of your best stories that are wide enough to fit a massive range of potential questions and scenarios.
Or if you are hiring, I recommend you keep at least one of these questions in these 14 principles in your back pocket. Amazon continues to test for these leadership principles on the job as well, so you may want to consider incorporating these into your own leadership programs – technical or not.